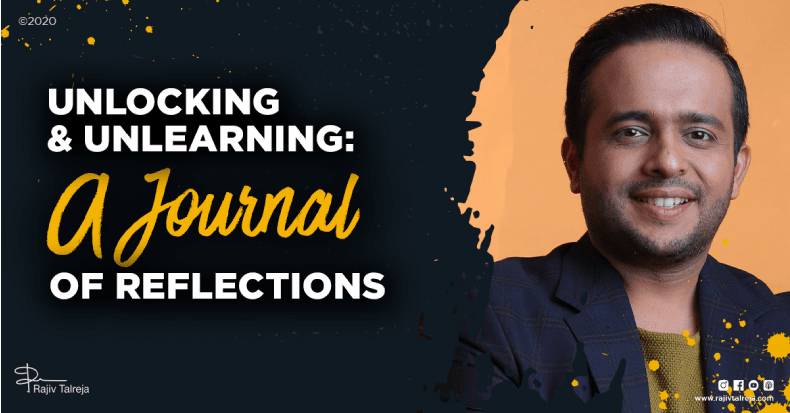 UNLOCKING & UNLEARNING: A JOURNAL OF REFLECTIONS
Last week, as we decided to reopen our office space and bring back the teams to a place where they love working from, working together, I stepped into the office to check on some regulatory safety practices.
I walked around the deserted floors, the empty desks, the walls staring silently at me…and it got me thinking.
Ever since the pandemic happened, all our lives have taken a backseat. And this is my way of reaching out to everyone, to point out certain things that I want entrepreneurs to think about and get value out of.
The era of Working From Home.
As the lockdown became a continuous reality and we slowly realized that life and businesses needed to restart, the Work From Home (WFH) setup made getting back slightly what the lockdown had affected, a little convenient. It became a blessing for people with teams who worked well together, it was a true test of how great teams can sustain the restrictions of distance.
Looking at the empty office, I reflect upon the initial months of the lockdown when it was so difficult to adapt to everybody. New processes and structures were put in place, mandates and strategies were decided and we tested unsure waters.
Soon, I realized that no matter how unsure I was about my business transitioning from a thriving offline model to a perfectly workable online format, the latter goal could be achieved.
The team got adjusted, the clients understood and adapted, and soon, work became work again. The kind that I thoroughly enjoyed. We could reach out to places where we could never reach offline. Making a difference in people's lives, being more accessible, are the things that kept me going.
Teamwork made the Dreamwork
No matter how trying the times were, I along with my partners, as owners of our respective businesses had decided unanimously to not let go of anyone in our respective teams. To us, our teams mean more than our clients.
I believe that a successful business sure needs its share of clients but the ones who actually make sure the business reaches the right kind of people are the team members. We stuck with our teams and they stuck by us. They rose to this difficult challenge and embraced the changes. As an entrepreneur, when you put your team above your customers, that's when we build a team that can bring and takes care of so many customers.
Importance of a Conscious Balance
Having said that, the flip side of it was that WFH brought in the dilemma of having a balanced work and personal life scenario. The days got longer, the work hours became blurred and soon I realized I was working way more hours than I had ever done before. I had also suffered a huge personal loss in the form of my mentor Sidra Jafri passing away.
I am sure a lot of you will completely relate to this feeling. Overwhelmed, overworked, and struggling to come to terms with the 'new normal'.
This time was physically, emotionally, and mentally challenging for everyone.
One major learning from this setup was that one needs to consciously make the effort to separate the work-life from home life. There is no tangible demarcation of work hours but have those alarms, reminders, etc in place. Switch your work mode off at the right times so that your body and mind can take the rest that they need.
So think, where are you compromising on your own well being for the sake of your business?
Adapt to Thrive
The best breakthroughs in life happen right after a challenge. As a difficult May transitioned into a challenging June, we started adapting. July was our breakthrough month where we achieved the peak of our online format of work. The Business P.A.C.E Program was back which brought back life into me!
But then as an entrepreneur, have I been challenged during this phase?
Hell yes!
I had my doubts about just relying on digital and social media for my business. The entire aspect of building a business based on the beliefs that we had nurtured over the last few years, all of it took a backseat. And that was my biggest learning experience.
Read More: TRADITIONAL BUSINESSES LESSONS FOR RECENT TIMES
The fact that, in business, things will not go according to plan. You need to call a spade a spade and make the necessary adjustments in order to mold into a different shape.
The sense of entitlement that was there a little bit, the irritation of how we had to start from scratch again, all of it had to be dropped at the drop of a hat! And the acceptance of the situation being what it is, adapting to change and bouncing back.
That's what this phase of Entrepreneurship has been about.
So, here's to learning, adapting, accepting change, and thriving in spite of it all.